The highly publicized 2016 water crisis in Flint, Michigan spotlighted the public health consequences that result from lack of investment in maintaining the nation's drinking water infrastructure. Before the state of emergency was declared on January 16, 2016, reports indicate that a pattern of cost-cutting measures and insufficient planning led to negative impacts on the health of residents. Despite having relatively high drinking water quality standards in comparison to many other nations, the United States' aging infrastructure and growing population create the conditions for further water quality crises that can only be prevented through careful planning and increased investment from local, state, and federal government.
Since the Flint crisis, major cities such as Pittsburgh and Portland have had results indicating lead levels that exceed the EPA requirements, and have taken initial steps in addressing their testing procedures and water infrastructure. CNN reported last summer that more than 5,300 public water systems are in violation of the EPA's current Lead and Copper Rule (LCR), and the LCR has recently been revised to contain more stringent requirements. In late 2016, Portland's Water Bureau began the procurement process for a corrosion control pilot study to ensure compliance with EPA regulations (IMS 361751-1), and the Pittsburgh Water and Sewer Authority has more recently issued an RFP for an evaluation of the Authority's water sample collection and testing protocols (IMS 376660). In addition to the new LCR testing requirements, the EPA is considering requiring all public water utilities nationwide to replace all of their lead service lines, which could total to more than $275 billion. While few agencies have taken on such a project, the success of Lansing, Michigan, a mid-sized city located 45 miles away from Flint, in replacing all of its lead pipes has been held up as an example of good municipal planning and preventive maintenance. The city started planning in 2004 to replace its existing lead service lines over a ten year period, and will complete the project in June of this year despite numerous financial hardships and budget constraints over the past decade. Lansing is one of the first cities (along with Madison, Wisconsin) to take on this type of project, but with the new EPA requirements it is more than likely that many other municipalities will need to follow suit.
Aside from the health concerns related to lead and copper pipes, the EPA's 2013 Drinking Water Infrastructure Needs Survey and Assessment estimated that the national public water system will need $384.2 billion of investment by 2030 to ensure that the nation's drinking water remains safe. The ability of many water utilities to meet this need for investment is in doubt. In late 2016, the Brookings Institution conducted a nationwide evaluation of water utility finances and found that, due to debt obligations, aging infrastructure, and growing population sizes, many public water utilities are struggling to keep even existing infrastructure operating at an acceptable level. The 2017 American Water Works Association (AWWA) State of the Water Industry Report indicates that 30% of utility personnel surveyed by the AWWA feel their utilities are struggling to maintain current operating levels, and 12% of those surveyed feel that their utilities are not able to cover operating costs at all.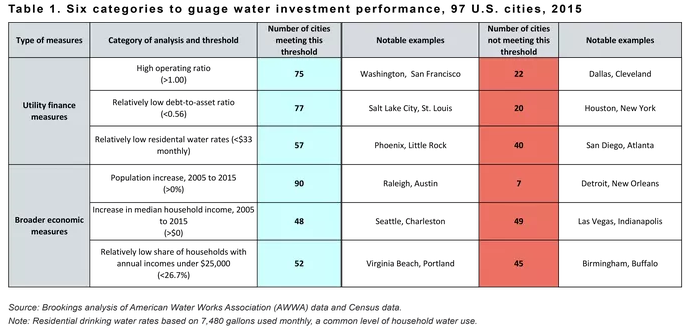 The challenges of securing capital investment and implementing critical projects are daunting, but not insurmountable. The Brookings Institute suggests that better financial planning (such as in the case of Lansing) and/or use of public private partnerships for the operation of utilities can help spur on the investments needed in drinking water infrastructure. In addition, water utilities that have pursued drinking water infrastructure in an integrated approach with sewer, wastewater, and stormwater improvements have achieved more efficient project delivery. In the case of Lansing, the lead pipe replacements were mapped out and planned to tie into updates to the citywide sewer system to complete portions of both projects at once where possible. In the context of a much larger city, the City of Los Angeles is currently preparing an integrated water resource plan known as One Water LA 2040, which will strategically coordinate $10 billion of water-related capital improvements across all city departments to eliminate inefficiency and accelerate project delivery.
In addition to efficient financial planning, agencies are taking advantage of new federal funding sources. In December of 2016, Congress passed the Water Infrastructure Improvements for the Nation (WIIN) Act, which authorizes a variety of water-quality related programs, including a grant program for lead reduction projects, and also expedites environmental permitting processes for critical infrastructure in rural communities. The EPA has also recently opened up a new loan program under the Water Infrastructure Finance and Innovation Act (WIFIA), which will allow low-cost credit assistance to agencies for a wide range of water facility projects. The EPA's more long-standing Drinking Water State Revolving Fund (DWSRF) loan program also continues to provide financial assistance for water infrastructure projects, and last year was reauthorized through 2020.
The new impetus for federal investment in clean water infrastructure, combined with the need for agencies to begin long-term planning to ensure reliable and safe water service, will likely lead to increasing numbers of water projects entering the design phase in the coming year. Already we have seen El Paso Water and the City of Los Angeles, Department of Public Works, begin the procurement process for new Advanced Water Purification Facilities (IMS 372073 and 375830-1), and numerous projects funded through the EPA's DWSRF program are beginning their design and construction phases, such as upgrades to the City of Shasta Lake's Wastewater Treatment Facility (358938-1). As 2017 moves forward, we expect to see increasing investments at all levels of government in water quality and treatment facilities. IMS' database and daily project announcements are essential in keeping track of these new projects as they enter the design phase, and our dedicated research allows us to stay ahead of the curve in tracking the new funding sources and local bond issuances that will make these projects possible.