---
What weed needs
---
As the legal cannabis industry grows by billions of dollars each year, so too does the need for environmental, planning, and energy-efficiency services.
The cannabis market is expected to grow at a compound rate of nearly 15 percent per year, according to a market analysis report from Grand View Research Inc. With a value of $13.2 billion in 2021, GVR expects the market to climb to $40 billion in revenue in 2030. This multi-billion industry and its future expansion will increasingly impact issues ranging from local planning decisions to the levels of air and water pollution. Even the reliability of the electric grid is at stake when power outages are linked to energy-intensive indoor growing operations.
So, in addition to health and safety regulations, government agencies are also developing new rules and guidance for energy efficiency and carbon emissions. The Colorado Energy Office recently released an RFP seeking technical support for energy efficiency and renewable technologies for marijuana cultivators through the Cannabis Resource Optimization Program (CROP).
The sector could certainly benefit from these energy audits and resource assessments. A report commissioned by the state of Colorado found that "the energy burden associated with cannabis cultivation is significant, with an estimated 2% of electricity generated in the state being allocated to cultivation facilities."
Emerging research is turning a spotlight on these levels of energy usage and the environmental impacts of the cannabis industry (especially indoor cultivation). And some of the environmental figures are even more staggering than the billion-dollar revenue forecasts.
An article by Gina S. Warren in the Boston University Law Review – "Hotboxing the Polar Bear: The Energy and Climate Impacts of Indoor Marijuana Cultivation" – tracked the energy and environmental implications of indoor growing operations supported by marijuana legalization. With indoor cultivation, there is significant energy usage for grow lights, exhaust fans, pumps, and air conditioning, Warren reported.
"Indoor marijuana cultivation has an energy demand that rivals data centers," Warren wrote. "With energy intensities around 2,000 watts per minute, it consumes between 50 and 200 times more than an average office building and 66 times more than an average home."
It's easy to imagine the energy needs of a large cultivating facility, but small-scale operations can have an outsized impact on the grid. "Even growing four plants indoors is equivalent to powering twenty-nine refrigerators," Warren wrote.
As a result, indoor cultivation facilities are using a large share of energy supplies. For example, studies have estimated that 4 percent of the electricity used in Denver, Colo., goes toward indoor cannabis cultivation. (See "Energy Use by the Indoor Cannabis Industry: Inconvenient Truths for Producers, Consumers, and Policymakers" by Evan Mills and Scott Zeramby.)
Greenhouse gas emissions is another avenue of recent studies. Colorado State University researchers developed a new model to understand the resources needed and the emissions created by indoor cannabis cultivation. The study, "Greenhouse Gas Emissions of Indoor Cannabis Production in the United States," was published in 2021 in Nature Sustainability.
The researchers analyzed inputs such as water, fertilizer, natural gas, electricity, and carbon dioxide used to boost growth. The model accounted for those resources as well as the climate and energy supplies in locations across the country to determine the carbon dioxide emissions that come from producing a kilogram of dried cannabis flower.
The study found that 3,658 kilograms of carbon dioxide emissions were produced for every kilogram of dried marijuana grown through indoor cultivation (it varies by location, but that's the median value).
The study quantified these "considerable" greenhouse gas emissions from indoor cultivation, and compared the impact to other industries in terms of the millions of metric tons of carbon dioxide emissions.
"If indoor cannabis cultivation were to be fully converted to outdoor production, these preliminary estimates show that the state of Colorado, for example, would see a reduction of more than 1.3% in the state's annual GHG emissions (2.1 MtCO2e)," the researchers wrote. "These GHG emissions are on a par with entire sectors within the state, such as coal mining, waste management and industrial processes, which are responsible for 1.8, 4.2 and 4.5 MtCO2e annually, respectively."
Given the staggering energy usage and economy-level rates of emissions, it makes sense that states like Colorado would seek consultants to provide energy and water audits, renewable energy assessments, and benchmarking assistance to cannabis cultivators.
That RFP for the CROP program was one of several recent projects that IMS covered for its architectural, engineering, environmental, and planning firms. (IMS, a division of Dodge Construction Network focused on A/E/C consultants, tracks current RFPs on a daily basis and reports on future projects through Advance Notices.)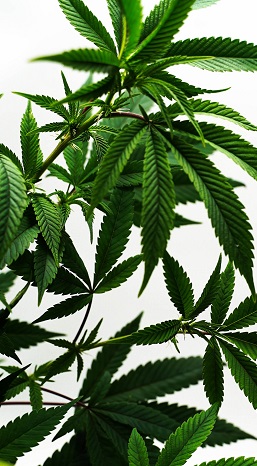 IMS covered only a few cannabis-related professional service projects five years ago, but covered eight in 2021 and 10 so far in 2022. By far, the largest number of RFPs were issued by agencies in California (80 percent). The state of Colorado released several major RFPs, and projects also came from Oregon, Nevada, and New York. Examples include:
* In California, Los Angeles County issued an LOI in August 2022 to support an environmental assessment for the proposed cannabis permitting program, as well as for developing an ordinance with an approval structure and mitigation measures for environmental impacts (IMS 641048).
* A similar project from Mendocino County, Calif., in June 2022 sought consulting services for CEQA documentation and permit processing for Cannabis Cultivation Permit applications (IMS 633235).
* An RFP issued by the Dormitory Authority of the State of New York in May 2022 requested design build services to renovate spaces to create conditional adult-use cannabis retail dispensary facilities for operation by Social Equity Licensees (IMS 627638).
* Monterey County, Calif., released an RFP in April 2022 for assistance with the Programmatic Environmental Impact Report for the Outdoor Cannabis Pilot Program (IMS 623901). The County also released an RFP to draft an ordinance establishing an Equity/Retirement, Relocation and Remediation Cannabis Program and the preparation of CEQA environmental review documentation (IMS 620526).
* Yolo County, Calif., released an RFP in September 2021 to prepare and certify odor control plans on behalf of applicants for a Cannabis Use Permit (IMS 591076).
The cannabis economy may be booming, but so is energy usage and pollution from indoor growing operations. If projections for this industry's future are accurate, we should also expect to see a growing need for planning and design experts to address demands on the electric grid, a greater use of renewable resources, and emissions reductions.