Advances in surveying technology are creating opportunities for members of that profession, as well as users of the end data. There are productivity gains to be had with robotic total stations. GPS can quickly yield mountains of measurements. Laser scanning can produce as-builts and base maps. And drones are capturing images from unique and valuable vantages.
"Just 40 years ago surveyors were still measuring distance on the ground by pulling a tape. Then came electronic distancing and field computers. Now we use global positioning instruments and robotic equipment," said Stephen Scott of Scott Survey Inc. in an article on industry changes.
Total Stations
A total station combines an electronic theodolite with a distance meter to give surveyors a modern tool for measuring and mapping. And with robotic total stations, the surveyor can operate the instrument with a remote control. This tool's capabilities are likely to keep growing.
"Integrated survey rovers, which combine [the Global Navigation Satellite System] and total station target on a single pole, are already available. Total stations with integrated video technology enable surveyors to see exactly what the instrument sees and to capture georeferenced images for use in photogrammetry and 'in-office surveys,'" according to Geospatial World.
Satellites and Global Positioning Systems
The benefits of using GPS for mapping and modeling include improved productivity, fewer limitations (such as line-of-sight requirements), and faster delivery of information. "GPS has revolutionized surveying, providing latitude, longitude, and height information more quickly, inexpensively, and accurately than was possible by traditional surveying methods," noted the National Oceanic and Atmospheric Administration.
The US Department of Transportation has evaluated GPS surveying, and found that the method increases accuracy and reduces costs. According to a Resource Center briefing, "The Utah Department of Transportation found that one person operating GPS equipment is generally twice as fast as a conventional survey crew."
With advancements, GPS technology is getting even more accurate and agencies will update their standards accordingly. "GPS surveying is an evolving technology," Caltrans said in its Surveys Manual. "As GPS hardware and processing software are improved, new specifications will be developed and existing specifications will be changed."
3D Laser Scanners
Another new technology uses laser scanning to produce 3D models or other maps. "Whether you call it 3D laser imaging, 3D laser scanning, 3D laser surveying or high-definition surveying, this type of surveying will become the norm in the future," said LandAir Surveying Company. The Georgia-based company touts the technology for use in many applications, including historical preservation, surveying hard-to-reach areas, and monitoring construction progress. "LandAir Surveying used our Leica High Definition 3D Laser Scanner to perform a topographic and location survey of downtown Augusta, including 5th Street through 13th Street, for a length of 13,450' and 17 acres, and along Broad Street," the company said. "The project will be used as a base map for a major downtown revitalization project. New streetscapes, traffic signals, and utilities will be designed from our surveys. We also tied in the under- and above-ground utilities."
Drones or Unmanned Aerial Vehicles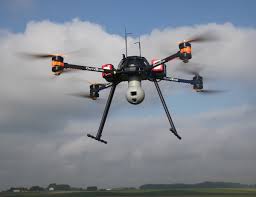 Drones are emerging as one of the latest technologies to support surveying. "Although drones have been around for a while, the technology has not yet been widely used in the surveying and remote sensing professions," wrote Frank Willis in an article for Point of Beginning magazine. "But it soon will be, thanks to the advent of practical, lightweight lithium polymer batteries, low-cost drone technology, lightweight digital cameras and advances in close-range oblique aerial photography – all of which make the future of drones in land surveying exciting."
Robert Galvin, also writing in Point of Beginning, says that UAVs can be a worthy investment. "Although the purchase of a survey-grade UAV can range $50,000-$70,000, it can cost $10,000-$40,000 to hire an aerial photography firm to fly over just one standalone survey project…" Galvin wrote. He also pointed out that drones can access areas where human surveyors dare not tread. "Not every site that requires surveying has easy access or is safe on which to walk," he wrote. "The Salt Lake County Surveyor's Office must measure hazardous waste sites and landfills because these sites are regulated on the quantities of hazardous waste they are allowed to contain." Galvin spoke with Reid Demman, past president of the U.S. National Association of County Surveyors, who said this would be an ideal application for UAV surveying.
Autodesk, a software company for the A/E/C industry, has partnered with drone maker 3D Robotics, according to a recent story by Ben Popper in The Verge. A version of the Solo drone will come with a tablet preloaded with Autodesk's FORGE software. "Autodesk has been moving into the drone industry for a while," Popper wrote. "Last year it invested in SkyCatch, another company which has been using drones to create 3D maps of construction sites in real time, maps which are then used to guide robotic bulldozers."
Future Opportunities
These surveying technologies are growing in power and use, and so are the software systems and niche support applications (cloud-computing, online geo-databases, cell phone controlled equipment, multispectral analysis). Does anyone think the evolution will stop here? To fall behind this curve means missed opportunities – for agencies and consultants. Indeed, the tools for obtaining metes and bounds are now growing by leaps and bounds.