---
Wind and sea
---
A national goal to deploy 30 gigawatts of offshore wind power by 2030 is putting a spotlight on state planning efforts, the environmental review process, commercial-scale projects, and new lease opportunities that open hundreds of thousands of acres for development.
The United States has a tiny fraction of the global share of offshore wind power production, but that may be changing. According to the Department of Energy's "Offshore Wind Market Report: 2021 Edition," there are 39 projects in the country's development pipeline.
"Driven by falling offshore wind prices, federal action, and state-level commitments, the U.S. offshore wind pipeline grew 24% over the previous year, with 35,324 MW now in various stages of development," the Department of Energy said.
That's a big number, but it only included 42 MW of fully operational generating power (from the Block Island Wind Farm and the Coastal Virginia Offshore Wind – Pilot projects ). There are 800 MW in approved projects, 10,779 MW in the permitting stage, 11,652 MW where the developer has site control, and 12,051 MW in unleased wind energy areas.
An auction in February 2022 to offer six lease sites for the development of offshore wind in the New York Bight yielded record bids totaling $4.3 billion, according to the Department of the Interior. Six firms won lease sales for a total of 488,000 acres in the New York Bight for wind development projects. The firms are: OW Ocean Winds East LLC, Attentive Energy LLC, Bight Wind Holdings LLC, Atlantic Shores Offshore Wind Bight LLC, Invenergy Wind Offshore LLC, and Mid-Atlantic Offshore Wind LLC.
The offshore wind projects on those leases could generate 5.6 to 7 gigawatts of energy, according to the Bureau of Ocean Energy Management. This could meet the energy needs of nearly 2 million homes.
"…Wind opportunities like the New York Bight present a once-in-a-generation opportunity to fight climate change and create good-paying, union jobs in the United States," said Secretary of the Interior Deb Haaland in the January 2022 announcement of the lease auction. "We are at an inflection point for domestic offshore wind energy development."
In Virginia, Dominion Energy is developing the Coastal Virginia Offshore Wind Commercial Project. It began with a pilot program that includes two wind turbines, each with a 6-megawatt capacity. Environmental and permitting reviews are under way for the full-scale project, to be located about 27 miles offshore from Virginia Beach.
According to the utility, "The pilot represents a series of firsts for Dominion Energy and the United States. It is the first offshore wind farm installed in federal waters and the only project developed and owned by an electric utility company. The commercial-scale project will build on the success of the pilot and will consist of 176 wind turbines generating a total of 2.6-gigawatts — which is enough clean, sustainable energy to power up to 660,000 homes."
According to the Global Wind Energy Council, the total capacity of offshore wind as of 2020 was 35.3 GW. Offshore wind represents a small percentage of the total capacity of wind power projects, with onshore facilities totaling 743 GW in 2020.
However, that share is increasing. Twenty years ago, offshore wind represented about 1 percent of the total installations. In the next five years, 2010 to 2014, capacity grew to 2 percent. And then to 3 percent in 2015-2018. The percentage of offshore wind now totals about 4.8 percent of wind power installations, according to the GWEC.
Feng Zhao, Head of Strategy and Market Intelligence for GWEC, said that 2020 was a record year for the development of new wind power facilities, with 93 GW of new installations (onshore and offshore).
"In the offshore market, 6.1 GW was commissioned worldwide last year, making 2020 the second-best year ever," Zhao said in the 2021 Global Wind Report. "China installed half of all new global offshore wind capacity in a record year. Steady growth was recorded in Europe with the Netherlands taking the lead followed by Belgium, the UK, Germany, and Portugal. The remaining new offshore wind installations in 2020 were shared by the US and South Korea."
The architectural and engineering consulting industry is playing a major role in the growth of the offshore wind industry. (IMS covers current RFPs on a daily basis and tracks future projects through Advance Notices for its A/E/C clients.) IMS has recently seen a trend of state-sponsored planning studies to chart a course for offshore wind development. For example:
* The State of Delaware issued an RFP in February 2022 for planning, analysis, and advice regarding the possible development of offshore wind to serve Delaware and the grid impacts of offshore wind interconnections (IMS 614377).
* The State of California released an RFP in February 2022 to develop a planning framework for evaluating and quantifying the maximum feasible capacity of offshore wind to achieve reliability, ratepayer, employment, and decarbonization benefits. The RFP also included establishing offshore wind planning goals for 2030 and 2045 (IMS 612352).
* The New Jersey Economic Development Authority issued an RFP in January 2022 to develop a strategy to accelerate innovation for the offshore wind industry. The project included a flagship research and development testing facility to capitalize on New Jersey's offshore wind investments and to spur a robust ecosystem of offshore wind-related innovation activities (IMS 607137).
* The State of Maine has released four RFPs related to offshore wind development. Consulting services were sought for advice in establishing the Maine Offshore Wind Research Consortium (February 2022, IMS 613136); for analysis of energy markets, transmission, and socioeconomic issues for an offshore wind roadmap (July 2021, IMS 580730); for an offshore wind supply chain and workforce opportunity assessment (June 2021, IMS 575137); and for offshore wind stakeholder engagement and roadmap support (November 2020, IMS 542380).
* The State of New Hampshire's Energy Department released an RFP in October 2021 to conduct an independent assessment of the pros and cons of the state's development of offshore wind energy in the Gulf of Maine (IMS 582547-1).
* Other consulting projects target specific environmental and planning elements of offshore wind projects. For example, the New York State Energy Research and Development Authority released an RFP in December 2021 for acoustic and oceanographic surveys to support offshore wind energy development (IMS 602999).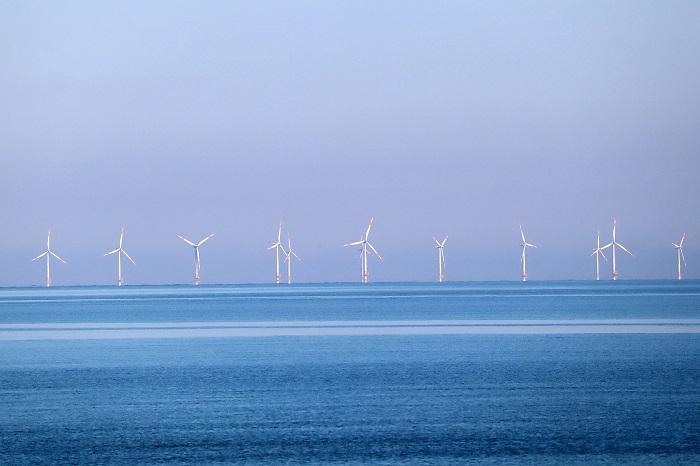 * Another type of project directly seeks the development of offshore wind resources. The Massachusetts Department of Energy Resources issued an RFP in May 2021 for developers to enter into long-term contracts for at least 400 MW and up to 1600 MW of offshore wind energy generation (IMS 562412-1).
* Still other projects will support the infrastructure to deploy future offshore wind projects. In California, the Humboldt Bay Harbor, Recreation & Conservation District released an RFQ in November 2021 for engineering, environmental, planning, and permitting services for new port facilities for the offshore wind energy industry (IMS 594240-1).
Those new port facilities would be in a prime location: the Bureau of Ocean Energy Management is conducting an environmental review for potential development projects in the Humboldt Wind Energy Area, a 132,369-acre area located about 20 miles off the coast from Eureka. An environmental review is also underway for the 240,898-acre Morro Bay Wind Energy Area).
Offshore wind in the United States is powering up, with ambitious goals for energy production, state and federal plans, new auctions of offshore lease areas, and support for environmental reviews and the permitting process. Should these ambitions be realized, federal agencies have projected that offshore wind projects could employ tens of thousands of workers and generate "$12 billion per year in capital investment."